CHIN Nodes

Coordinating Node
Western University
Centre for Human Immunology
1400 Western Rd, Suite 214
Western University
London, ON, Canada N6G 2V2
Director:
Dr. Joaquin Madrenas
Tel: 514-398-7492

Manager:
Bethany Heinrichs
Tel: 519-661-3228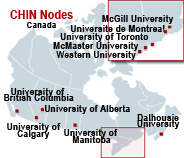 CHIN Nodes...
Coordinating Node
Coordination of CHIN will be carried out from the Centre for Human Immunology (CHI) at UWO in London Ontario. This is a university-sponsored centre recently established on the basis of the first FOCIS Centre of Excellence in Clinical Immunology and Immunotherapeutics in Canada.
Director of CHIN
Dr. J. Madrenas
The coordinating node will be directed by Dr. J. Madrenas, an MD/PhD, Chair and Professor of Microbiology and Immunology at McGill University. Dr. Madrenas has a productive career in human immunology and its application to clinical problems. He led the application that awarded the first International FOCIS Centre of Excellence in Clinical Immunology to Canada in 2003 and that became the UWO CHI in 2009. Dr. Madrenas has been co-chair of the National Research Council of The Kidney Foundation of Canada, member of the CIHR III Advisory Board, and chair of the CIHR Immunology and Transplantation Review Panel for more than 10 years. He has experience in successfully leading large national and international initiatives to develop new research themes; for example, he led the initiative that established the international framework for the CIHR III NETs in Clinical Autoimmunity program with NIH-NIAID and ITN in 2006, and was a coorganizer of the CIHR III workshop of Systems Biology applied to Immunotherapeutics in 2008.
The CHI has the infrastructure and human resources required to support national and international initiatives as a result of having housed the CIHR III from 2000 to 2010. The centre has a manager – Ms. Bethany Heinrichs – who was employed by the CIHR III and brings extensive expertise in administrative development, communications, and logistical operations of large initiatives.
In the map below, hover over node location and click to go to their site
CHIN operates with a coordinating node and 7 nodes:



Western

(Coordinating Node)

Dalhousie
Manitoba
McGill
McMaster
Toronto
British Columbia (UBC)
Western Ontario (UWO)

These major nodes are the drivers of CHIN. Investigators throughout the country will be invited to participate and have access to CHIN activities. As additional centres emerge, they will be invited to participate as nodes.